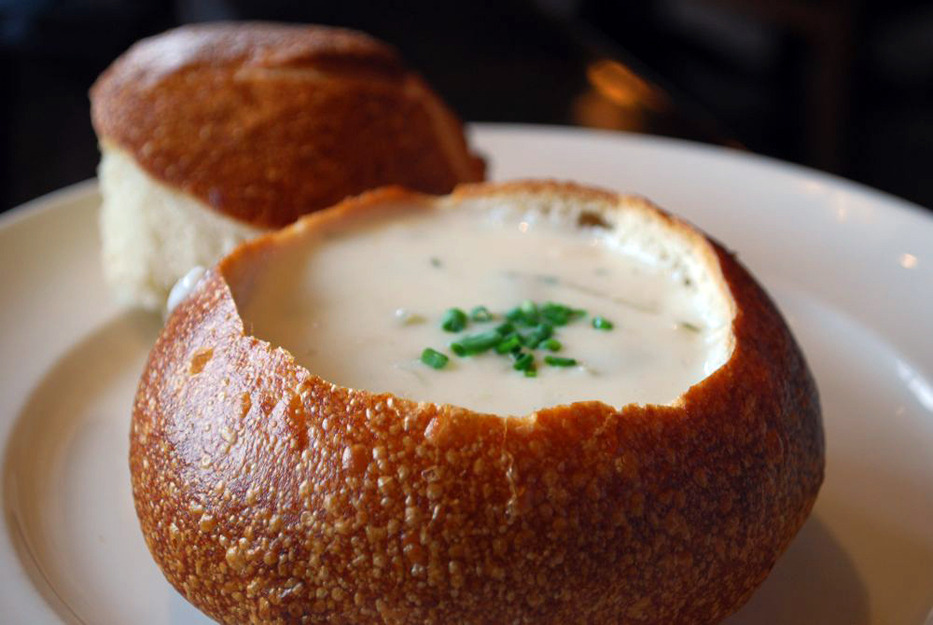 D's all-time favorite family activity is having clam chowder in a bread bowl at Boudin Bakery at Fisherman's Wharf and head back to Shed A where Musee Mecanique is housed.
I've mentioned this many times in previous entries, but we enjoy playing tourist in our hometown. Sometimes, it takes us to places like Fisherman's Wharf which is actually my least favorite destination, but there are a few gems worth experiencing.
Besides it's rich history, Boudin Bakery truly has the best sourdough bread on the planet. Their newish flagship location contains a cafe, a working demonstration bakery, gift shop and restaurant and bar. During prime tourist season, it's slammed. We've discovered that the crowd thins out by evening, and grabbing a table and bowl of clam chowder in the cafe is a bit easier. For a sure thing and a great view, make a reservation for Boudin Bistro, the restuarant located upstairs. It is on the pricey side, but the food and service are always great.
After you've filled yourself with sourdough, walk across the parking lot to Musee Mecanique, an antique arcade more or less. This is loads of fun for the entire family! Be prepared to drop quarter after quarter into the old mechanical games and enjoy the delightful machines come to life.
Enjoy - F&N